4S Team Application Tasks
In this phase you need to:
Identify the kinds of disciplinary thinking you are trying to promote
Begin writing 4S scenarios where students apply what they know to analyze a situation and make concrete decisions
Create facilitation plans
Read before you get started
Imagining 4S Possibilities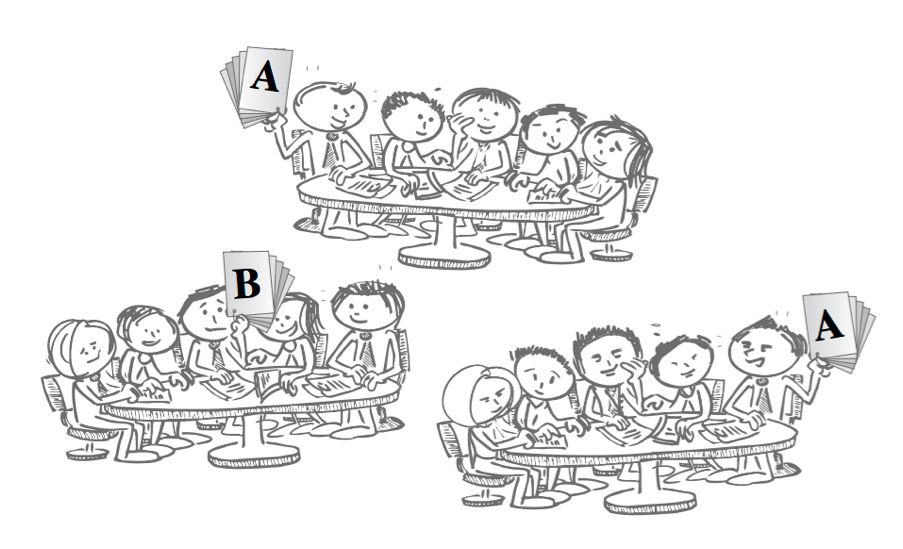 During a 4S Application task, students get to concretely apply what they have abstractly learned from the readings. Because of the abstract nature of understanding, it is not "teachable" in the conventional sense. An understanding can be gained only through guided inference whereby the learner is helped to make, recognize, or verify a conclusion. (Wiggins and McTighe, 2013). You want students connecting abstract concepts from the readings with concrete experience during the 4S team Application tasks. Making connections during 4S team tasks is important to consolidate student learning. Helping students see gaps in their knowledge motivates the students' look up what they don't know and then immediately putting that knowledge into action tests and deepens their understanding. You need to present a scenario that creates the context in which what students "know" abstractly (via their readings) is put to the test when they try to "use" it in concrete, specific case. Your job is to find or, if necessary, fabricate these scenarios.
Example 4S prompts (note the use of superlatives or implied superlatives to force a specific choice)
A patient comes into emergency with the following symptoms…

What is the first thing you would do? And why?
What is the first test you would order? And why?
What would be the worst thing to do? And why?

Given 3 possible programs to end homelessness in your city, select the program that is the best and will likely be most strongly supported by local agencies and Civic leaders? (Michaelsen and Sweet)
What is the most relevant theory that explains the behaviour in the video? (Kubitz and Lightner)
Which of the following best describes the opportunity cost of coming to class today? (Espey)
Which of the following should the University do to best increase the quality of Undergraduate education? (Mahler)
Which sampling scenario would best address this research project? (Mahler)
Given three valid historical interpretations of the progressive Movement, discern which best describes the Progressives revealed in our manifesto? (Restad)
In Clarence Page's op-ed piece "The Problem With Trashing Liberty"' where does the responsibility for a safe a civil society lie? Which of the following three philosophers (X, Y, and Z) does Clarence Page most agree with on these fronts? (Roberson and Reimers)
What of the following passage in the Bhagavad Gita best illustrates reflection about the nature of Krishna's divinity? (Dubois)
Rank how useful each source is for understanding the fears of the Cold War era. (Restad)
Which teacher should be nominated for a teaching award? (Croyle and Alfaro)
Which indicator (from a list of 5 plausible alternatives) is most critical to making a correct diagnosis in this case? (Michaelsen and Sweet)
If a moving vehicle overloaded this bridge structure, which component would likely fail first?
You are making a home assessment, which of the following safety hazards would be of greatest concern? (Clark)
After assessing Mrs. Randall's dining room what would be your first recommendation to protect her from falls? (Clark)
What line on this tax form would pose the greatest finical risk due to an IRS audit? (Michaelsen and Sweet)
Given a set of real data, which of the following advertising claims is least (or most) supportable? (Michaelsen and Sweet)
You are consulting for a new business owner who wants to open a dry-cleaning store in Norman, Oklahoma. Where would you recommend locating a new dry-cleaning business? (Michaelsen)
Developed by Bill Roberson and Jim Sibley
Writing 4S Activities
First, you may need to make your original Learning Outcomes more CONCRETE.
Next, you need to create problem scenarios/situations where students' factual knowledge (from RAP process) is useful, but maybe insufficient to solve the problem definitively.
Next, when creating these scenarios you want to clarify exactly what do you want students to be doing.
Evaluate/judge something (object, product, creation, situation)?
Analyze or diagnose a situation?
Interpret something (text, artifact, data set)?
Solve a particular type of messy problem?
Next, identify the concrete information/data sets the students will work with:
Texts (such as cases, descriptions, excerpts from a textbook, writing samples, etc.)
Images (visualizations, diagrams, videos, etc.)
Data (spreadsheets, graphs, charts, etc.)
Objects (products, specimens, etc.)
Next, you need to pick the format of students' action:
Will they compare?
Will they sort?
Will they rank?
Will they score?
Will they choose the best course of action?
Will they distill and represent in a written format?
Next, determine how to make student thinking/decisions visible so it can be represented in a simultaneous report. Can their answer be represented with?
Colour Voting Cards
Single Number
Single Letter
Single word or phrase
Sometimes this means converting a complex response into a simple response. For example, after a ranking task, ask students to report their #1 choice, rather than their entire ranking scheme. If you've asked students to compile a list, ask them to choose the MOST critical item on their list and report it. Every task needs to lead to a moment of sharp differentiation: "I choose this over that." Getting the students to this moment sets up "WHY?" as the teacher's entry point for interactions leading to student analysis, reflection, and critical thinking. The simultaneous report naturally lets teams compare their decisions and decision-making process to other teams.
Finally, it is good to develop a facilitation plan for debriefing the 4S Application task, to ensure students learn the most they can from the task. Debriefs always begins by asking ALL teams to simultaneously report their answers/decisions. A good plan provides you with a way to organize the discussion that follows, and direct students into a dialogue with each other.
Developed by Jim Sibley and Bill Roberson
Anatomy of a Great 4S Activity
It is recommended that team tasks be constructed to conform to the TBL 4S model. The 4S's stand for present a Significant Problem, all teams get the Same Problem, teams are asked to make a Specific Choice (constrained choice), and then teams commit to their decision by publically and Simultaneous Reporting it. This framework is not just for TBL teachers. It can be used any time you want to design powerful classroom activities and discussions.
In the TBL model, the structure of the team task gives individuals and their team opportunity to analyze a scenario, then make a difficult judgment, and finally publicly committing to a decision on an appropriate choice or course of action. This public report of a team's decision creates an intense reporting conversation where students get specific and timely feedback on the quality of their thinking and their process for arriving at their decision. It is during this reporting conversation you have a facilitation opportunity to help students deepen the discussion by applying the principles of critical thinking.
Example Task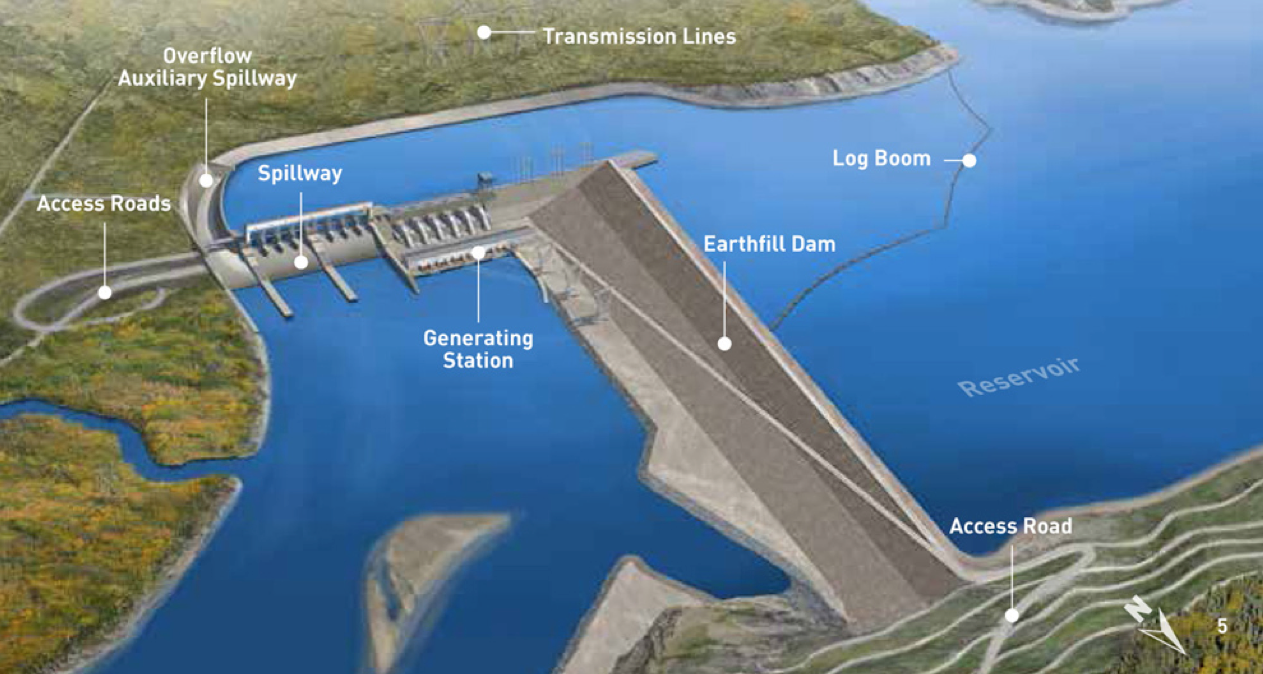 You are head of Engineering for a large dam project on the Yellow river in the Ningxai province of China. The dam is to be located in the Yiling district near the exit of the Ordos Loop section of the river. The dam is to be located at 34°49′46″N 111°20′41″E. The Yellow river is China's third largest river. The river is characterized by extremely high silt loads, especially in spring floods. The local bedrock is a highly fractured gneiss. The dam will be a concrete earthfill hybrid design. You have been asked to determine some of the main design parameters, including safety related question like what flood event return period to build the dam to withstand.
What flood return period would you recommend the dam be designed to withstand?
once in 50 year flood
once in 100 year flood
once in 200 year flood
once in 500 year flood
Requiring Complex Analysis
The example looks like a simple multiple-choice question, but it isn't a simple question. Coming up with a good solution requires the integration and analysis of many different factors and the weighing of tradeoffs (like cost vs. safety). There are a lot of things for the teams to consider in determining a reasonable course of action and coming up with a reasonable defense for their decision.
Important considerations could include:
How big are the flood events?
Are changing climate patterns going to affect the size and frequency of flood events?
What is the difference in cost to design to withstand the different levels of flood events?
Are there unique landscape or bedrock concerns? How could we mitigate them?
What are the population patterns downstream?
How would downstream populations be effected by a failure at different flood levels?
How do these kind of dams typically fail?
Can the dam be constructed to fail elegantly and reduced the threat to downstream populations during flood events?
"Scenarios allow you to embed many variables that can be used to introduce multiple concepts, theories and perspectives into students' discussion, as well as to complicate the task, if desired, through a mix of relevant factors and red herrings." (Roberson and Franchini, 2014, p. 287)
Using Concrete Scenarios that Require Concrete Action
We are looking for concrete scenarios that require students to use the concepts and abstraction from the preparatory material to understand, analyze, and solve. The quality of the problem ultimately controls the effectiveness, energy, and learning outcomes of an activity.
"Students, therefore, need to be required to act frequently in ways that generate consequences that provoke reflection and demonstrate visibly their thinking. The more focused and concrete the action, the more visible will be the thinking and the learning—and the more immediately useful will be the feedback." (Roberson and Franchini, 2014, p. 276)
"Effective team tasks point students consistently toward making decisions that reveal reasoning and understanding in service of a judgment." (Roberson and Franchini, 2014, p. 279)
"What we know about the nature of learning is that students gain deeper traction, faster, with course content if their first encounters with it include concrete experiences framed by and informed by the abstractions" (Roberson and Franchini, 2014, p. 296)
Using Expert-like Problems
Another nice feature of this example is that it asks the kind of question an expert would need to make.
"Disciplines are more clearly defined by how those working within the discipline collect, organize, assess, and use information" (Roberson and Franchini, 2014, p. 278)
Students need to use their understanding (gained in the pre-readings, lectures or previous activities) to make expert-like concrete decisions that will have very concrete consequences. You want to design concrete scenarios where conceptual and abstract understanding helps students make better decisions.
"If we want our students to become more expert in our disciplines, we need to structure their encounters with content in ways that change what they can do with knowledge." (Roberson and Franchini, 2014, p. 278)
Constraining choice to intensify discussion
The example at first glance looks a lot like a multiple-choice question and many teachers worry that constraining choice like this will limit the depth of the discussion. It is quite the opposite, constrained choices focuses student energies on analysis of specific issues, which ultimately helps with team to team comparisons that allows students to see how their thinking contrasts other teams. This really becomes clear for all to see during the public reporting of team decisions.
"The function of the collective decision task, therefore, is to place a restrictive frame around the team's action. This restriction forces the team to evaluate, integrate and, if needed, respectfully discount a team member's inputs en route to a judgment and a focused decision." (Roberson and Franchini, 2014, p. 288) 
"Tasks that direct students toward a specific choice do not stifle student thinking but concentrate it so that feedback on the task can be directed at specific, anticipated discoveries and realizations."  (Roberson and Franchini, 2014, p. 290)
More Simultaneous Reporting Ideas
Maps and Push Pins
You are consulting to a new business owner that wants to open a dry cleaning store in Norman, Oklahoma. Where would you recommend they locate a new dry cleaning business (and why)?
Specific Choice – Push Pin in map
Voting Cards
You are an English teacher. You are working with your students to develop their understanding of the Active and Passive voice. You are trying to develop their next assignment. Which assignment wording would best promote higher level thinking and a rich reporting discussion?
List the mistakes that writer frequently make that detract from their efforts to write in an active 'voice'
Read the following passage and identify a sentence that is a clear example of: a) active, and b) passive 'voice'.
Read the following passage and identify the sentence in which the passive 'voice' is used most appropriately.
Specific Choice – Show Voting Card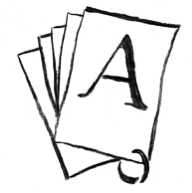 Whiteboards
Given the following investment portfolio, investor profile, and market conditions which stock would you sell first and when?
OR
A patient presents at the ER with the following symptoms. What would be your first course of action? What test would you order first?
Specific Choice – Write decision on whiteboard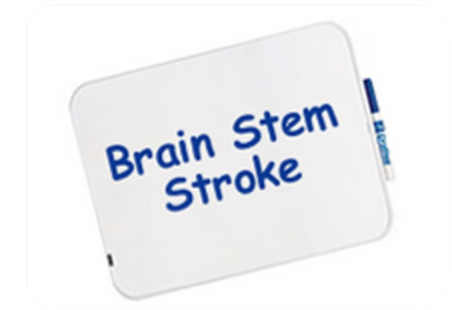 Gallery Walks
Sometimes when problems require a bit more writing you can do gallery walks. Student teams present their plans on flipchart paper. This can be effective since it requires teams to distill their decision down to ideas that can be captured on a flipchart and the public reporting help teams take the task seriously.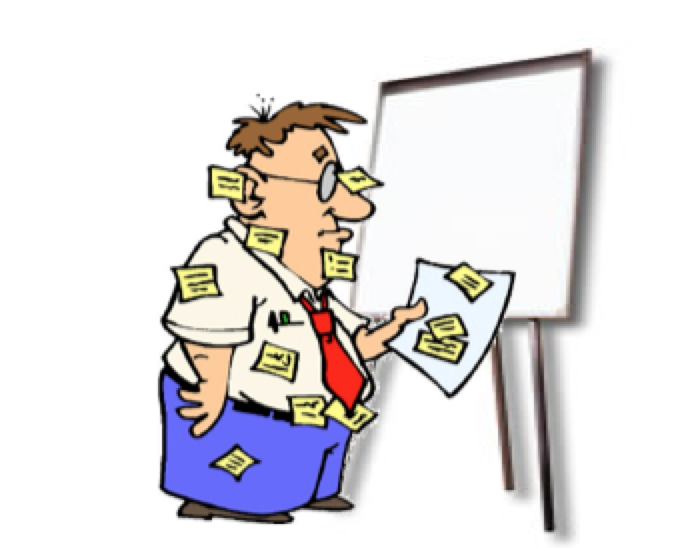 Hot Seat Reporting
Use numbered balls to randomly select student teams to report. Teams can display their completed worksheet with analysis using a document camera and walk their classmates through their work. After a few teams there is often convergence in presented rationales and decisions and an instructor opportunity to provide closure.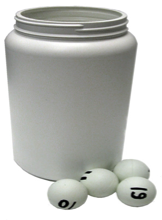 Scissors and Glue Sticks
Student bring individually prepared documents and are given class time to distill documents down to a team version. This gets students reading each other work and working with grading criteria to identify valuable parts of each document for inclusion in team submission.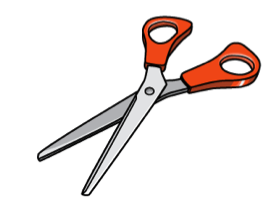 Excel Charts
 Given this airfoil shape. What would be the optimal placement for a Pitot tube (airspeed measurement device)? Provide an x/y coordinate.
Specific Choice – x/y coordinate on EXCEL chart
Stacked Overheads
Given the following x-ray. Identify the most clinically problematic area. Circle the area with a colored pen and be prepared with a rationale to defend your analysis.
OR
You are a consulting geophysicist to a mining company that is looking for new ore deposits on their property. Given these geophysics results, what area of the log is of most interest and what trends are most significant? Indentify the most important area and trend.
Specific Choice – Circle area on transparency, instructor stacks transparencies for simultaneous report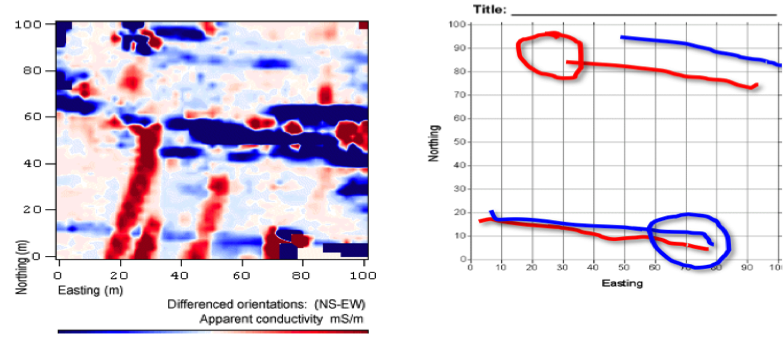 Classroom Logistics
Planning for Class
Planning Class
You should use a lesson-planning model known as SET-BODY-CLOSE to effectively plan each class. This lesson-planning model is described more fully in Sibley and Ostafichuk's Getting Started with Team-Based Learning (2014, p.123-124).
Here is an example lesson plan structured using the SET-BODY-CLOSE model.
SET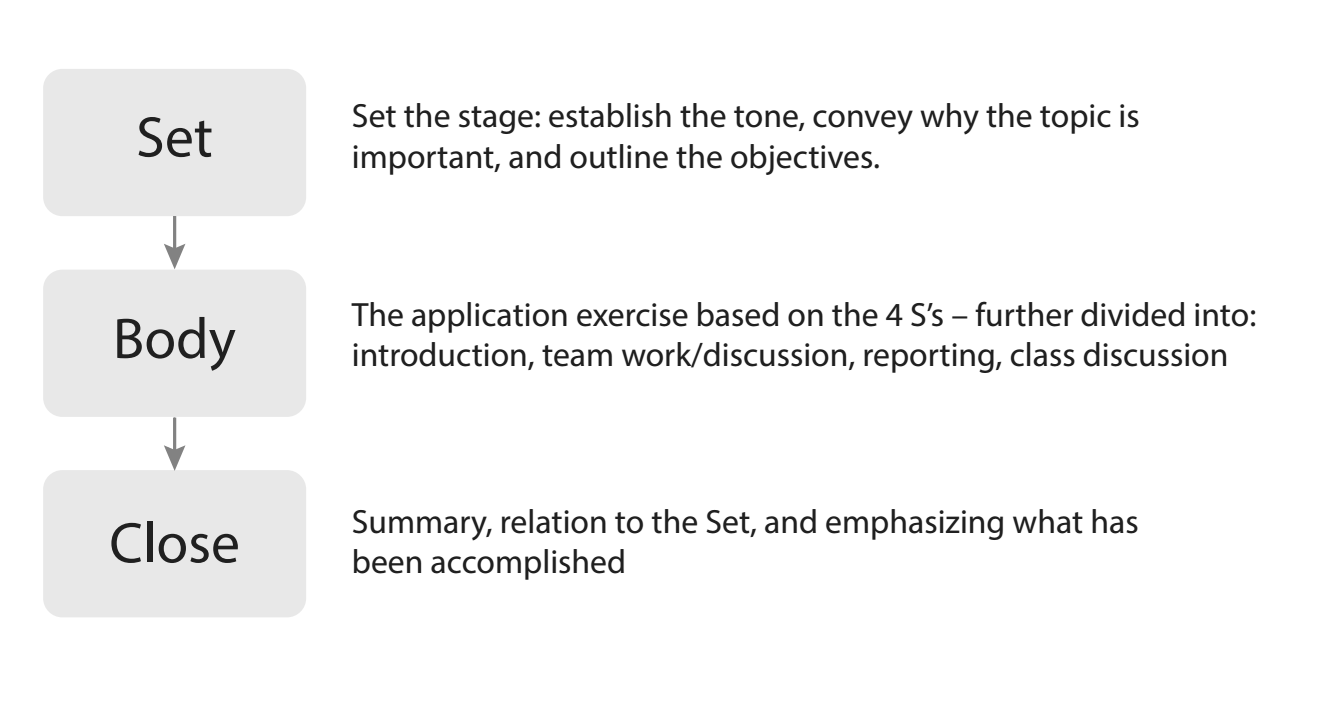 During the SET we set the stage for the class by conveying why the topic is important, how learning this topic has important future utility for the students, how this topic relates to student prior knowledge, what the intended outcomes are, and finally set the students to work.
In this case, the class could open with a presentation of the problem task maybe showing images of the river location, images of similar dam types, some examples of dam failures (images, news clippings), and then highlighting how difficult and important these kinds of engineering decisions are to make methodically and systematically. Then the class is carefully put to work – clearly state how much time they will have to complete their analysis and make their decision, remind students that they will be required to publically report of their decision, and they will need to be ready to defend their decision and critically examine the decisions of other teams.
Keep the problem displayed during team deliberations and have a timer visible, so teams can budget their time to complete their analysis and arrive at a decision within the allotted time. (Roberson and Franchini, 2014). "Requiring teams to produce an answer—publicly—within a given time helps them maintain focus and also sends the message that "we can't" isn't an option. To create an even greater sense of urgency, always allow less time than you think they really need to answer a given question" (Roberson and Franchini, 2014, p. 298).
BODY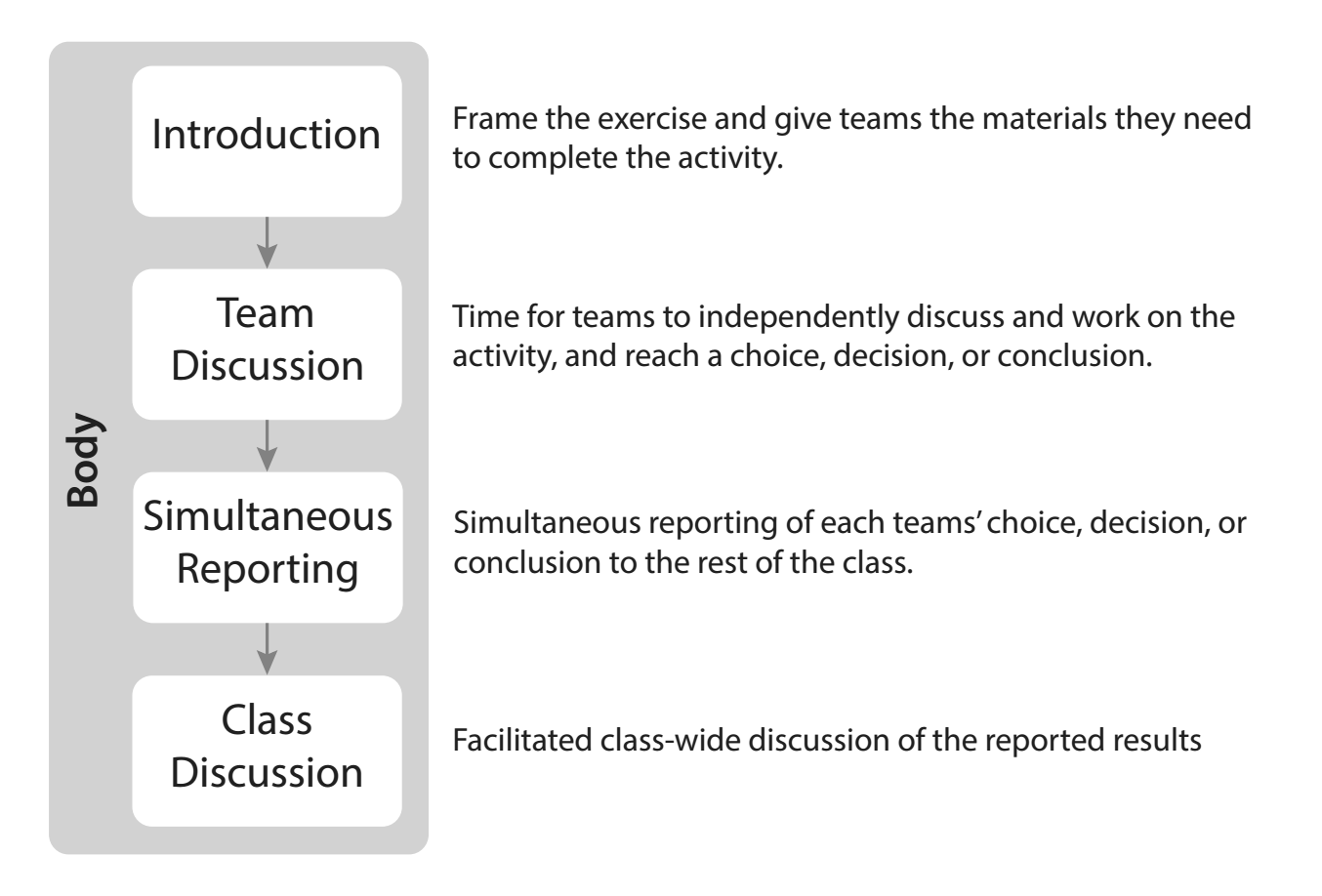 This is the major portion of the activity and has the students deliberate within their teams, then make a decision, then publically report their decision (simultaneous reporting) and then be ready for a discussion where their decisions and their rationales will be examined and discussed. The instructor can prepare a discussion facilitation plan to ensure the post-reporting discussion is as productive as possible.
"If you have not anticipated what students' responses to the task will be, you may not be ready to debrief their decisions effec­tively." (Roberson and Franchini, 2014, p. 297)
CLOSE
During the CLOSE we summarize what has been learned. You could perhaps, ask students to list the most important things they learned. Revisit the themes of the SET – why the topic is so important, what the future implication of our decisions could be, and possible next steps or calls to action. Highlight all that has been accomplished and thank students for their efforts.
Using ORID Framework (Stanfield, 2000) to generate discussion questions
You should have some discussion questions ready to gently guide reporting discussions in case they drift to unproductive territory or if the depth of analysis to inadequate. Stanfield's (2000) ORID framework can be used to generate a series of question that systematically and methodically examine any issue. But remember the major difficulty for most instructors is they intervening too early. Don't do it. It can "diminish a team's sense of ownership of their own responses." (Roberson and Franchini, 2014, p. 298).
Objective
What are the facts?
What sources of information are important to help us make a good decision?
Where would you like to have more information?
What assumptions are being made?
Reflective
Would you be comfortable making this decision with limited information?
What information would you like to have?
What should concern us? What tradeoffs need to be considered?
How has the situation been dealt with in the past?
Interpretive
Is there another important perspective we aren't considering?
What would happen if we changed…..?
What effects will these changes have? Who else will be affected?
Decisional
How do you justify your decision? What are your main arguments?
What was your first choice?
What was your second choice?
Was there disagreement inside your team about the best choice?
Facilitation Advice
"The design of a task is ultimately only as good as its execution and management" (Roberson and Franchini, 2014, p. 297).
Many people new to TBL worry about facilitating the discussion after simultaneous reporting. Although we all have much to learn about facilitation, the good news is the 4S structure of TBL activities lead discussions that are simpler to facilitate than open general discussions.
The first thing you do, following simultaneous report, is announce the patterns you see…I see mostly A's and C's with a few D's…..then you begin asking teams why they made their decision…..going team to team….building a reasoned argument together with your students.
When teams commit to their positions and publically report it, the instructor can then facilitate the report by simply going team to team asking "why did your team pick A" going to another team "why did you pick B". You work the room going side to side and making sure to engage all parts of the room. Try to resist talking to teams next to you. This can become a conversation between the instructor and one team and not a conversation between all teams. One trick is to ask teams across the room to add their two cents. This helps the reporting conversation stay between students and not between instructor and one team of students. You can ask a team to tell you about their team's deliberations – what did they talk about, how did you decide…What is nice about this is you are only asking them to recount the conversation, not what is the right answer.
When discussion energy begins to wane you can begin to ask "why didn't you pick…" or "was there a second choice that your team considered?"…"why do you think someone might pick that choice?" These are the same kinds of questions that you need to use to play devil's advocate if all the teams agree.
Another important consideration is to close the discussion well. You want to make sure students get reminded of the important take-aways, the assumptions examined, and the inferences that needed to be made. You can summarize or even better have the students paraphrase a summary of the discussion. Reflective one minute paper can be used to great effect here. You can simply ask students to quickly individually list the "3 most important points" or "2 remaining concerns" or "a context where it might not be applicable." A nice finish to this activity is to have teams compile these points into a team consensus worksheet. However you do it, not closing activities well robs them of some of their value.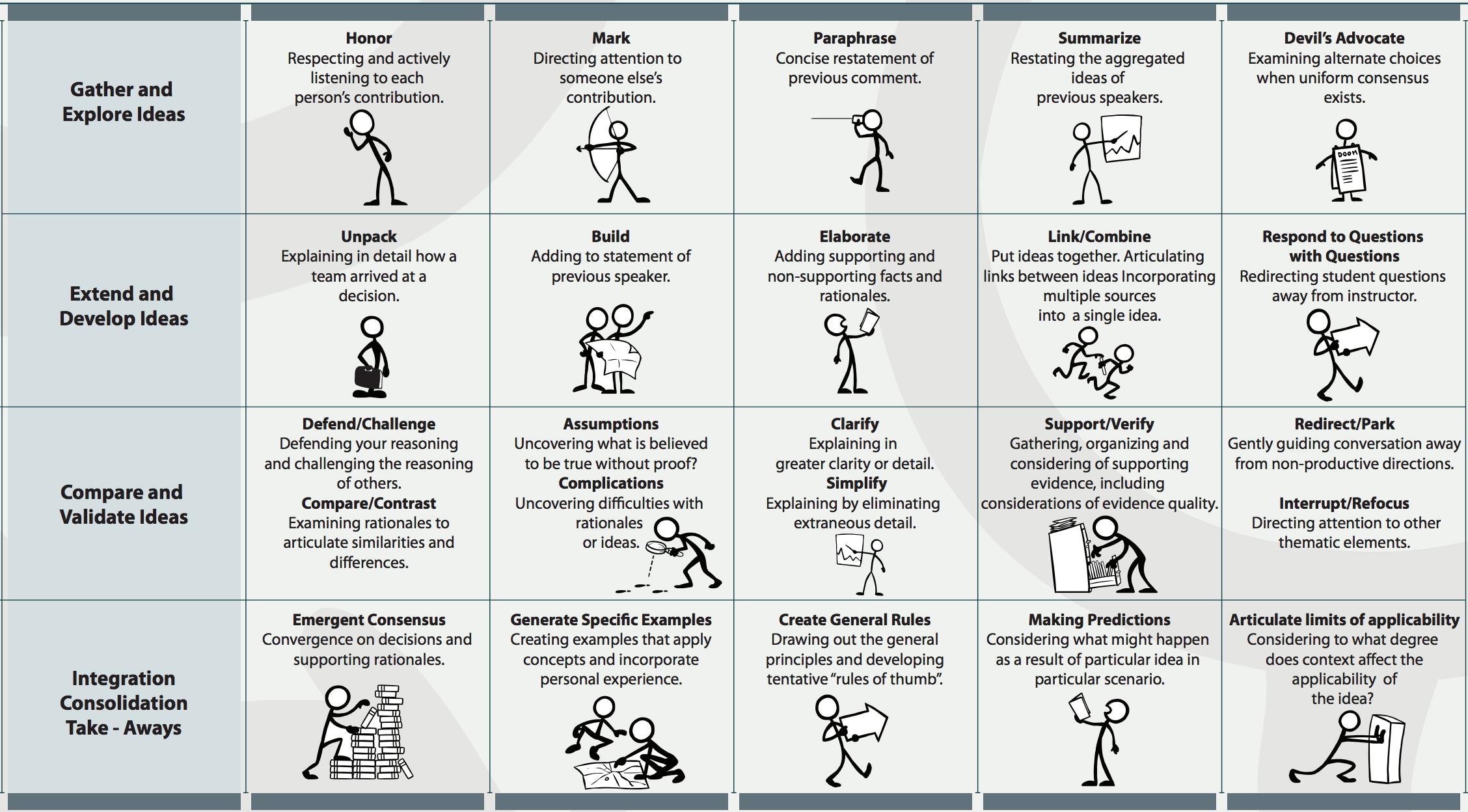 From Jim Sibley and Loretta Whitehornes facilitation poster from the 2012 TBL conference.
Frequently Asked Questions
What makes a good application question?
Often questions that ask – pick the best course of action from a list of reasonable courses of action. You want the team to use large complex and incomplete data sets, be forced to use inference, make assumptions explicit and use measured judgements to arrive at that "simple" decision. These kinds of analysis can lead to powerful reporting conversations. Remember that the 4 S are not optional. People who are new to TBL, but not new to teamwork often create activities that don't include some of the S's. Don't. The 4S structure lets you consistently generate great activities and reporting discussions. In the interview for my book, people with more TBL experience most often had greater fidelity to the 4S structure. The 4S framework gives you some structure to relax into. When a teachable moment comes by, you are often in a better position to capitalize on the opportunity.
What kinds of questions don't work for application activities?
The most common problem is questions that are too simple. If a student can sit back and watch the brightest student in the groups solve the problem, many students will do exactly that. This unleashes all sorts of group dysfunction.
Should I grade application activities?
Depends. There is a diversity of opinion on this issue. We have never graded application activities, but we do collect a worksheet from each team after each one. We tell students that the only time we may look at these worksheet is when students are close and want the bump to the next higher letter grade. We have had no issues with students willingness to engage in ungraded application activities.
If you do grade the activities, you need clear deliverables and grading rubrics to accurately assess each teams submission. Many people have started with graded application because they worried that students would not engage with activities unless they were worth marks. This turn out to not be true and ungraded applications let you turn up the difficulty of the application without the backlash from students when they "get the answer wrong" on graded difficult applications. Remember, the goal here is a great reporting conversation, not getting the right answer.
Next: Develop Team Formation Plan