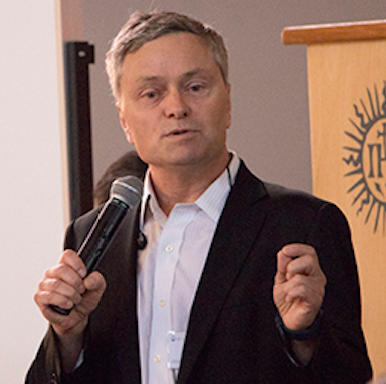 Jim Sibley is Director of the Centre for Instructional Support at the Faculty of Applied Science at University of British Columbia (UBC) in Vancouver, Canada. As a faculty developer, he has led a 14-year implementation of Team-Based Learning in Engineering and Nursing at UBC with a focus on large classroom facilitation. Jim has 35 years experience in faculty development, support, and training at UBC.
Jim serves on the editorial board of the Journal on Excellence in College Teaching (term 2014-2017) and as an invited reviewer for the Teaching and Learning Inquiry journal.
Jim has written the book Getting Started with Team-Based Learning published by Stylus. Jim has also authored and facilitates a successful online TBL course that helps faculty build their first TBL module in just 2 weeks! He is an international TBL consultant, having worked at schools in Australia, Canada, Korea, Lebanon, Pakistan, Uruguay, and the United States. Jim has in the past been an active member of the Team-Based Learning Collaborative and has served on its board and many of its sub-committees. He has mentored colleagues in the Team-Based Learning Collaborative's Train the Trainer mentorship program.
Jim is also a board member of the Vancouver International Fringe Festival that brings 700 theatre shows to Vancouver during a ten day festival every September.
My Philosophy
Leading by Listening. This advice from one of my early mentors still guides my work today. Only by listening  carefully to the stories of friends, colleagues and students can we better understand the educational world around us. When a teacher comes to me, I am in a position to share wisdom imparted to me through many long-standing conversations and listening to many teachers stories of how we teach, how we learn, and how our students experience their education. In the words of Proust, "The real voyage of discovery consists not in seeking new lands but seeing with new eyes."
Inspiring people take well thought out instructional "chances" in the safest way possible is at the heart of my practice. My primary task as a faculty developer is to help develop faculty members understanding of the connections between pedagogic possibility and their own practical, authentic, and meaningful instruction. I believe in creating an environment where faculty can make well informed decisions based both on ideas presented in workshops and consultations, and their own particular context. To find solutions that work for them and their students.
Current Position
Director
Centre for Instructional Support
Faculty of Applied Science
University of British Columbia
1214-6250 Applied Science Lane
Vancouver, British Columbia
Canada
V6T 1Z4 
My 2016 resume
My 2014 teaching dossier
This is simply the single best teaching method available (the focus is college teaching). It guarantees deeper learning, the development of critical thinking skills, collaborative skills, social skills. Moreover, class becomes a fun, extremely engaging experience. Everyone should consider teaching with TBL, in any discipline.

Workshop Participant
Very thought provoking workshop – an unexpected pleasure!

Workshop Participant
I found it to be inspiring.

Workshop Participant
Thank you for your time and generosity.

Workshop Participant
This was the missing piece for me in my teaching practice.

Workshop Participant
It was very rich, fulfilling, inspiring and helpful.

Workshop Participant
To be effective for the complex task facing us, one also need a high level of teaching and learning expertise and that is impossible for most faculty to achieve. It requires a collaboration with someone like Jim Sibley who has the discipline expertise and a passion for teaching and learning that, quite frankly, I found to be inspiring.

Elizabeth Brauer Northern Arizona University
I have never met someone so helpful. Always trying to find ways to help others succeed. As they say down here – good on ya mate!

Mark Freeman Australian Higher Education Council
I would say if you're motivated to have fun in the classroom and want to enjoy every class, and you want the students to leave energized about your subject, this is for you. Now I will not teach a course without Team-Based Learning.

Brenda Collings Accounting, University of New Brunswick, Saint John [i]
The rewards are incredible. The energy in the classroom is phenomenal, and the feedback we've gotten from faculty is sky-high in terms of preference for TBL and not wanting to go back to lectures.

Chris Burns Microbiology, University of Illinois [i]
When I adopted this, it was a turning point in my career, and I became a much happier professor, and I think students became happier, and they learned more in my classes.

Brent Maclaine Literature, University of Prince Edward Island [i]
I love the enthusiasm and energy of students. It's just so much more fun.

Larry Michaelsen Business, University of Central Missouri [i]
It means fun! I don't have to lecture, which I hated. I get to know my students. TBL is a heck of a lot more work than lecturing, but it's also a lot more fun.

Mary Hadley Chemistry and Geology, Minnesota State University–Mankato [i]
What do I see when TBL is implemented well? Students excited about learning, and faculty falling in love with teaching. Lots of energy in the room. Lots of engagement. The way learning should be.

Holly Bender Veterinary Pathology, Iowa State University [i]