I am lucky to have lived in Vancouver, Canada for last 37 years. Vancouver is a vibrant, clean, very beautiful small city. You can ski, kayak and bike all in the same day. You can even take a city bus to go skiing. We keep winter snow in the mountains. We hardly ever get snow in the city, but we can see it in the mountains – the way I like it.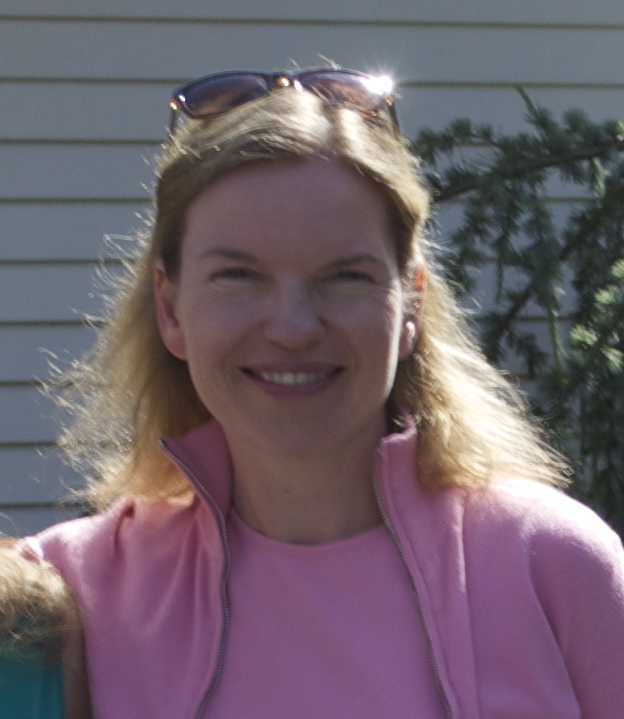 We live in a condo 5 blocks from the beach and a 15 minute bus ride from campus.
Share my life with my wonderful partner Amanda and our cat – Cole.
Amanda is now the Director of Bachelor of Laboratory Medical Science program at the University of British Columbia after almost a decade teaching in the MD undergraduate program at UBC. She is a masterful teacher and as part of her many teaching responsibilities co-leads a wonderful course – Pathology 405 – a remarkable year long course that helps students sharpen their critical analysis and presentation skills. It's one of those course you hear about – and want to immediately take.
We are both fanatics about local theatre and have season tickets to 3 local companies, Theatre Wire, the Arts Club and the Clutch. I am on the board of the local Fringe festival. At the yearly Vancouver Fringe festival in September we usually get to 10-12 shows during the 10 days festival (there are 700 performances in 10 days…so we miss the odd one). We probably go to 30-40 theatre performances each year.
Our cats Maggie and Cole came into our lives in 2010. They are siblings and very close – grooming each other, sleeping on top of each other. We adopted them from Vancouver Orphan Kitten Rescue
Association – VOKRA. They are little terrors – ruling our household – as they should. We feel blessed everyday we get to spend with them.
We lost our dear cat – Maggie in early fall 2017 to an agressive cancer. She was only 7!  We still feel cheated, sad, angry, and in a bit of a daze. Cole has been very lonely since the loss.
Maggie was a beautiful black domestic long hair and Cole is a black and white domestic short haired tuxedo cat. They are very spoiled kitties with an outdoor run and many high shelves to perch on. We have a neat outdoor enclosure system that lets them go outside any time they want. We live on a very busy street with buses and trucks and would be too nervous to have outdoor cats.
I had a bit of rough patch in 2005. I had a Brain Stem Stroke that left me partially paralyzed, unable to eat or speak properly.  The stroke was just bad luck – tearing my vertebral artery in my neck while teaching a kayak lesson. Three months in hospital and another month at home saw me back it work. Years of physical therapy has let me regain most of my function again. To meet me you wouldn't know that I had these struggles. You know that you are fascinated with learning when you watch people teach you how to walk again and are fascinated by it. It took me about 8 weeks to stagger to my feet and another few months to really get my strength back. When I was discharged f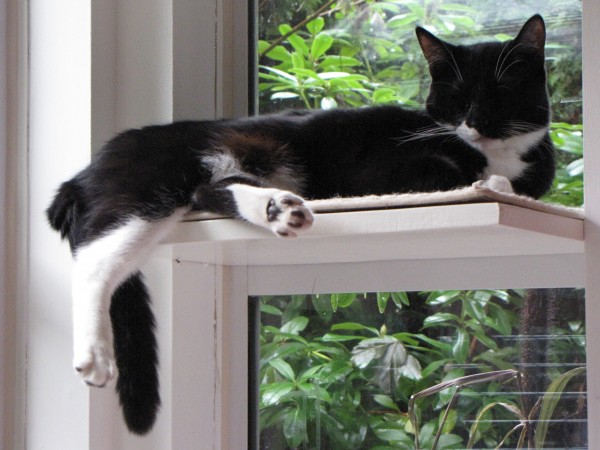 rom hospital my Physiotherapist told me to "practice the transition from grass to pavement".  Amanda and I figured that meant go hiking in the Canadian Rockies. I was a bit slow with two canes but made it into the alpine a few times. I had a plastic vocal cord installed to restore my voice. It was amazing within minutes of the surgery my voice was back. I still do physiotherapy 3 mornings a week – nine years later. Although I wouldn't recommend it – It was a great delegation strategy at work – just don't show up for 4 months. I am very lucky to be strong and healthy again.
I have been asked to tell my Stroke story a few times. First, was a digital story about the stroke, done in the style/genere of storycenter.org. Next, the Heart and Stroke foundation did a series of interviews for their Brainstream website. And just last March, I told a spoken word story at Vancouver's Flame storytelling circle – "The hiccups that tried to kill me".
Stroke (Digital story)
http://www.youtube.com/embed/Zr9MoPT0EMw?list=PLE12486B1EF512F3A
 Stroke (Interview by Brainstream)
https://www.youtube.com/playlist?list=PL7C00E628B3C89633&feature=view_all
Stroke  (Spoken word "Hiccups') performed at Flame Storytelling Event
I feel very fortunate to be healthy, have wonderful people in my life, live in a great place, and have work that I am passionate about.
My Mom and Dad
We lost Mom and Dad this year (2016). Mom slipped away over the past few years into dementia and left us finally in May. Dad passed away in December 2016, surrounded by family. I tell people about Mom and Dad's travel and tennis playing exploits and people are amazed. Lives well lived. We will miss them.
Our Costa Rica trip advice – we have been 9 times