Beauregard Guitar Wish List
Beauregard Archtop 15″
I wanted to have something very special to remember my Dad, who passed in 2016. A beautiful guitar felt like a great tribute to a wonderful man. I look forward to thinking of my Dad every time I pick it up and play.
After looking at various possibilities, I had started to fixate on a Collings i35, but Trump made me reconsider buying anything American. I decided to find some non-American source for a beautiful guitar and bumped into Mario's extraordinary work. I spoke to Mario Beauregard on the phone about building something special to cherish my Dad's memory. I am so happy he has decided to build me a guitar. I sent my deposit today – it's official – I am excited!!
Proposed Specs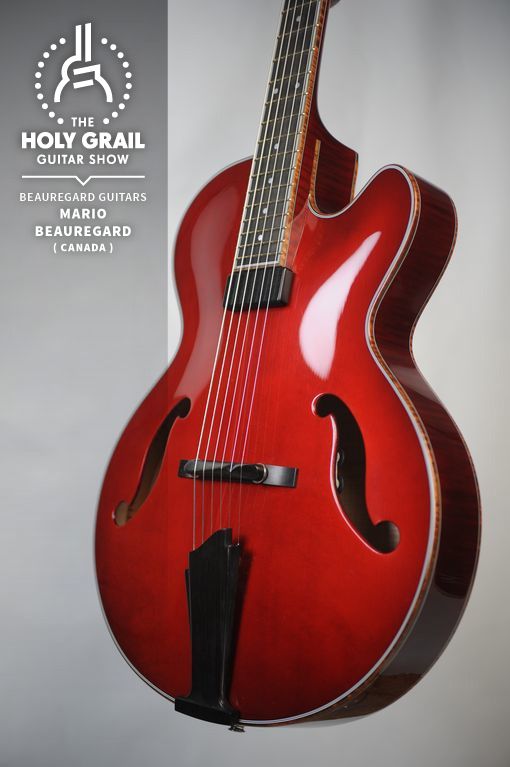 Scale Length: 25″
Nut width: 43mm
14th fret width: 53mm
Top: Stika Spruce – would appreciate your recommendation as well
Sides and Back: Please recommend – dark wood like picture
Finish: Bright Red top with smoked edge /Dark sides and back (as in images)
Binding/purflings: as in image to right
Tail Piece: as in image, with Mario's pin system
Pick Guard: No
Tuning machines:  no strong opinion on this….will take advice on this….Gotoh (satin black)?
Pickups: Benedetti (Mario's recommendation) mounted as part of neck at end of fretboard
Case: Hoffee (grey exterior with blue interior)
Text passage printing inside guitar – visible thru f hole
He made friends wherever he went and never met a stranger. His optimistic outlook on life impacted all who were blessed to know him.
George Sibley 
1921-2016
Inlay on Tail Piece (PDF)