We have been 9 times. First year we rented a car and spent 3 weeks driving all over Costa Rica. Now we just go straight to Puerto Jimenez and into Corcovado Park. We don't rent a car any more and just take the small internal flight (it takes 45 minutes to get to Jimenez by plane vs. 8 hours driving).
Here is pretty much our standard itinerary.
Day One
Fly into San Jose (usually about $1100) – flight usually is through Dallas or Houston. The San Jose airport is actually in a nearby city – Alajuela. There is NO reason to go into San Jose proper – it is an unsafe and a hole.
We stay at a nice cheap hotel near the airport (10 minute cab ride). The Hotel Picande, owned by our friends Cecilia and Jose. The hotel isn't anything special but is right downtown and has nice spartan rooms. We often wander around the city – things feel safe to us.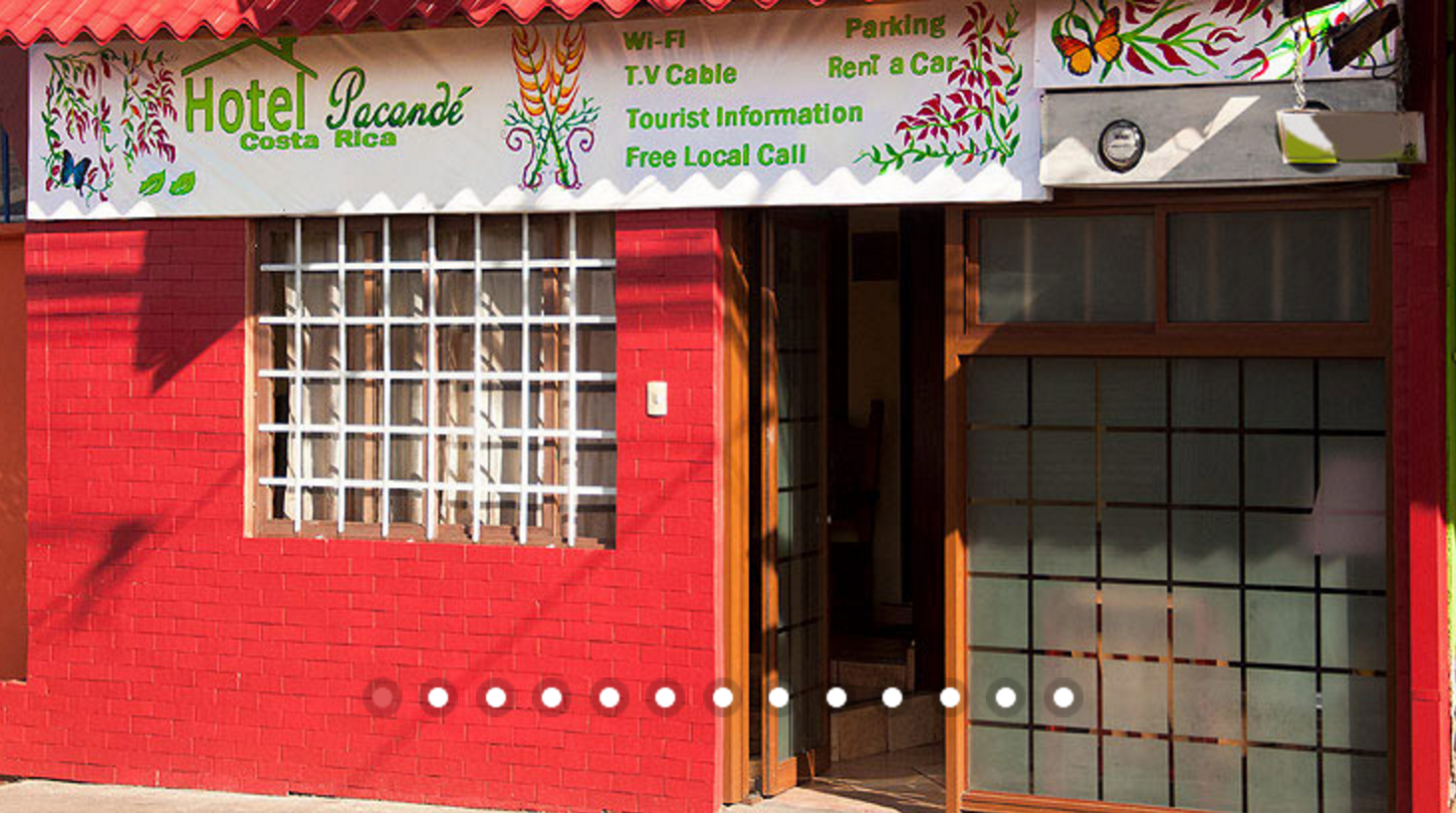 Day Two
Cab back to airport. Take Sansa flight to Puerto Jimenez (around $100). Beautiful flight in 12 seater airplane. We always use Sansa because it fly's out of the international airport near the hotel. The other option for internal flights is Nature Air…but it not a convenient since it fly's out of an airport nearer to San Jose.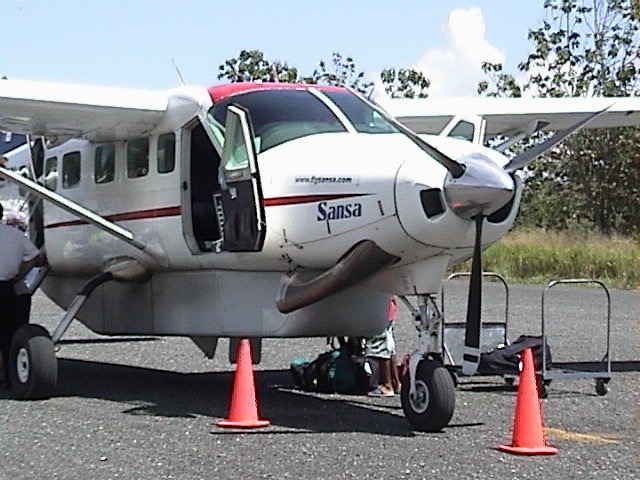 Be prepared for when the plane door opens in Jimenez…its HOT and its HUMID….but we still love the place.
You can walk into town (5 minutes).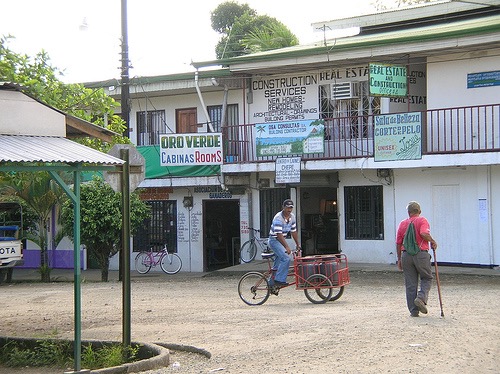 We stay at Cabina Oro Verde….simple concrete rooms with fans….run by the beautiful Jane (picture below of happy Jane with baby on the way)….her mom Emila used to run the hotel when we first came in '95.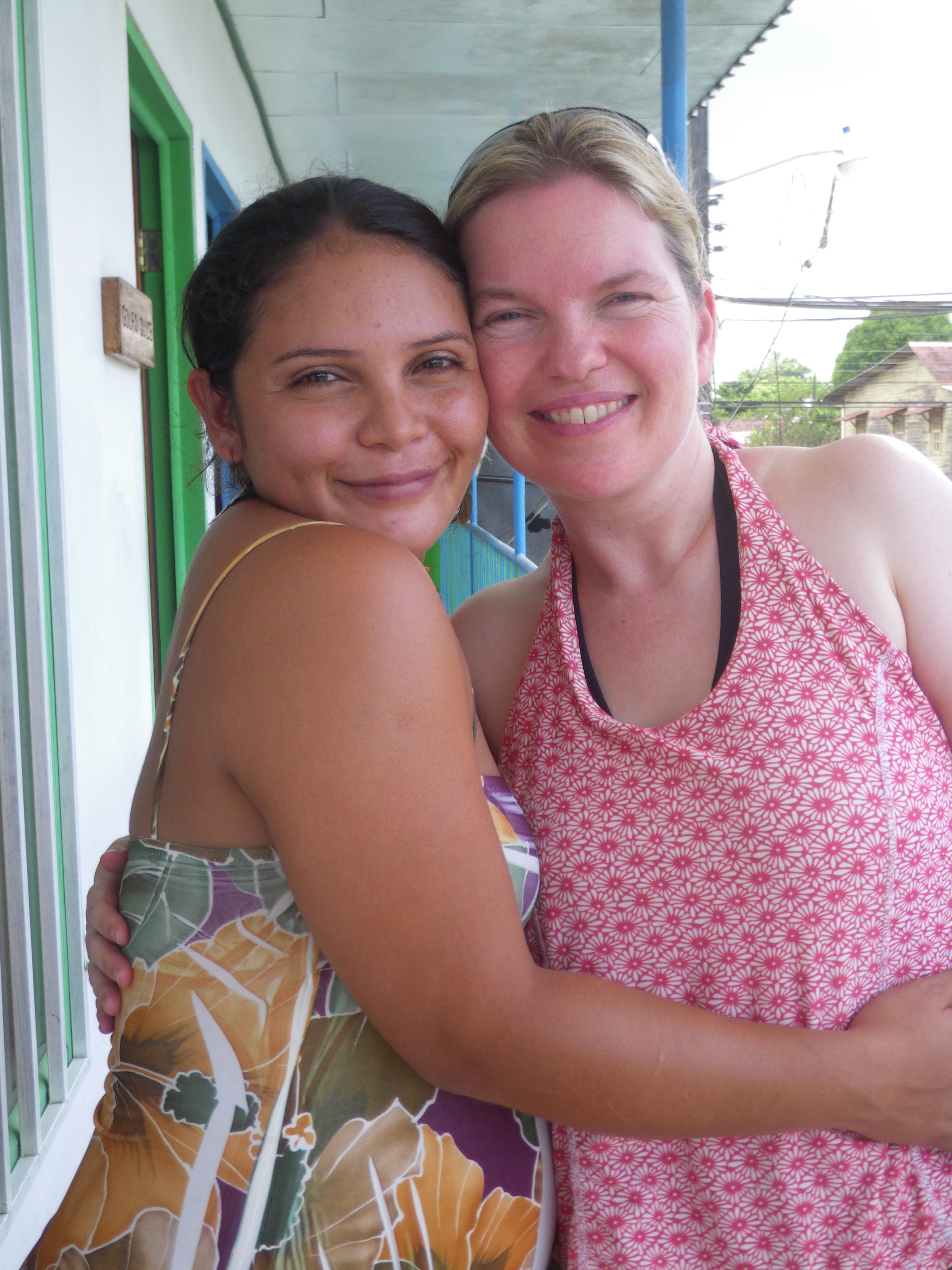 We have become friends of the family and even did New Years eve with Emily and her husband John a few years ago at their beautiful open air house in the hills west of Jimenez. We don't really speak Spanish and they really don't speak much English…but it was a lovely evening anyways.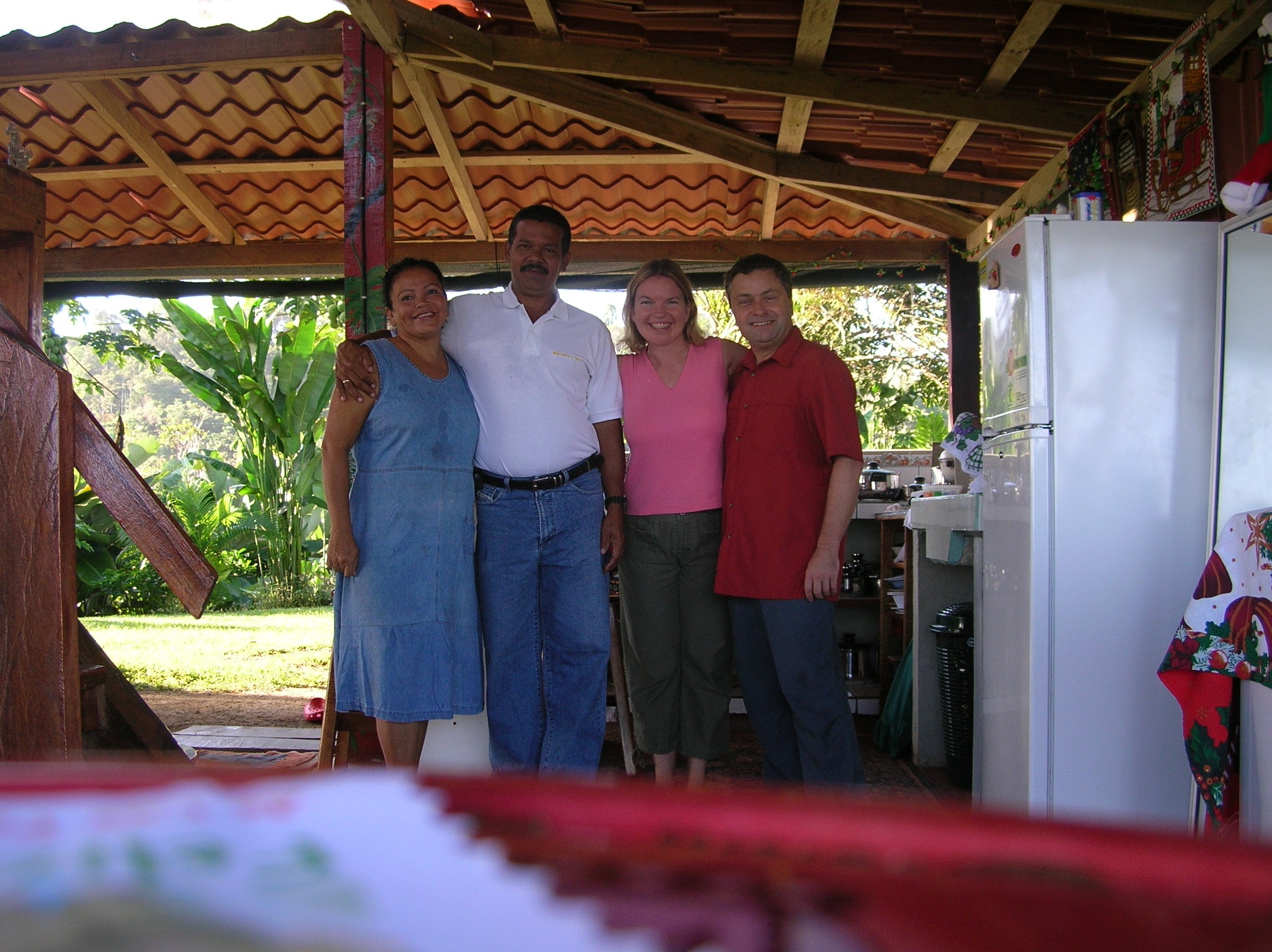 Some people prefer to stay at Cabina Jimenez….more expensive…on the beach and has air con.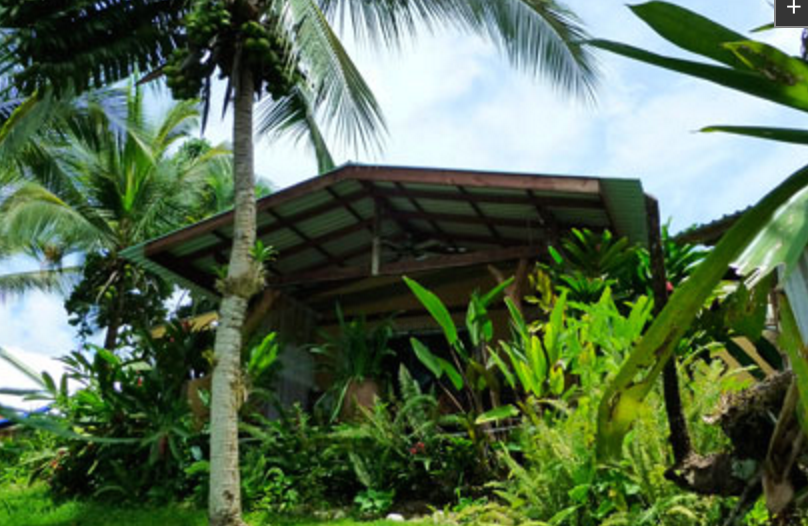 We usually go for a swim that afternoon at the town beach…water is super warm. On the way down to beach are almond trees along soccer fields and usually many Scarlet Macaws.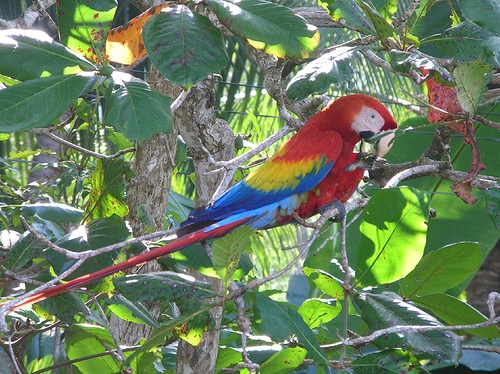 That evening we usually do diner at The Palms (free wifi if you need that kind of thing)…open air restaurant down by the beach.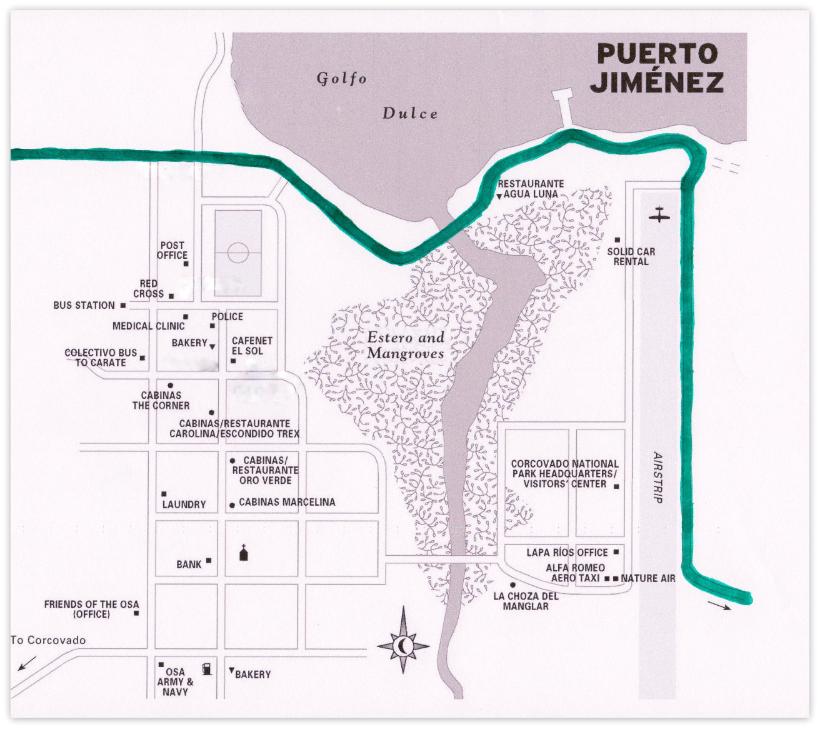 Day 3
Breakfast at Soda Daya on street that parallels the main street to the west ( if we consider the main street north south with beach at north end). The Costa Rican staple for breakfast is Gallo Pinto (rice and beans). It is really good and Daya makes great Gallo Pinto. Just down the street is a fairly big supermarket.
After breakfast we usually go to beach and read till lunch.
For lunch, we go to the Carolina restaurant…right on the main street…open air dining and pretty good diner food. We have actually spent a few Christmas days at the Carolina. Their lemonade is excellent.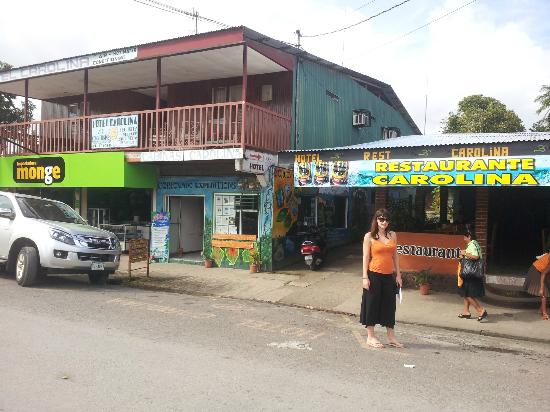 At back of Carolina is Escondido Trex…where you can arrange a guided kayak trip…recommended.
Day 4
Visit to Osa Wildlife Sancutary….boat ride from Jimenez…25 minutes across Golfo Dulce. The tour is amazing – lots of animals and you get to see them up close. The sanctuary is run by a friend of ours, Carol Patrick – she also is amazing . This is a must do.
You normally check in with your guide from Corcovado. We did the first 8 trips without a guide. The last trip we hired a guide for the first time – it was so worth it. He was amazing at spotting wildlife. We booked with Surcos tours (usually we talk with Ute). The park rules are now that a guide is required. Nito is the best guide…if he is booked he can recommend someone.

Day 5
You can take the bus ($12) for the 2 hour drive to Carate at edge of Corcovado park. We take a taxi. It is $75 dollars but much more comfortable.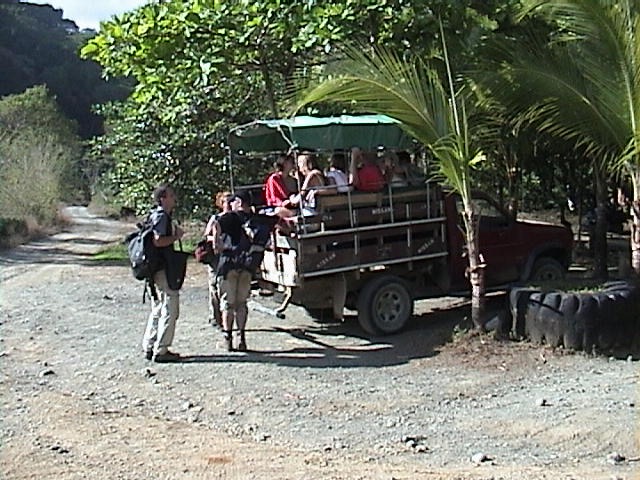 We have the same pattern each trip – get to Carate…spend 1 night at Le Leona Tent lodge…hike into Sirena and camp for 4 nights – hike back out and spend 2 nights at Le Leona lodge.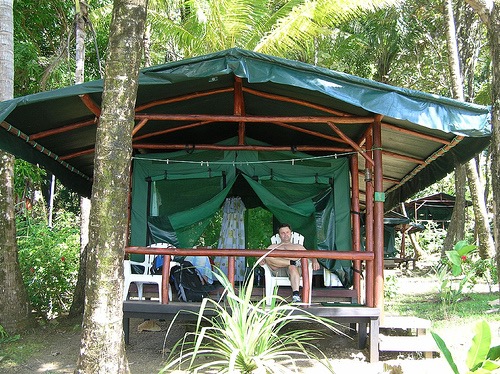 La Leona lodge is a 45 minute walk along the beach from Carate…a donkey cart will meet you to take your pack to the lodge…..the beach is hot walking…drink lots…walk shade to shade…go sloooow…we love the place so much we don't really care about the heat.
The lodge is about a 5 minute walk from the edge of the park.
You can camp at La Leona ranger station…we used to…but now we stay at the lodge.
Day 6
Up early to walk before major heat of the day. Five minutes down the beach you check in at the La Leona ranger station. From there it is a 17 km walk mostly on the beach. A few stream crossings you will need to change to sandals. The last crossing of the Rio Claro…needs to be timed for low tide…..up to knees or waist depending on tide. We usually take about 8 hours…you aren't trying to set speed records in the heat….just slow and steady.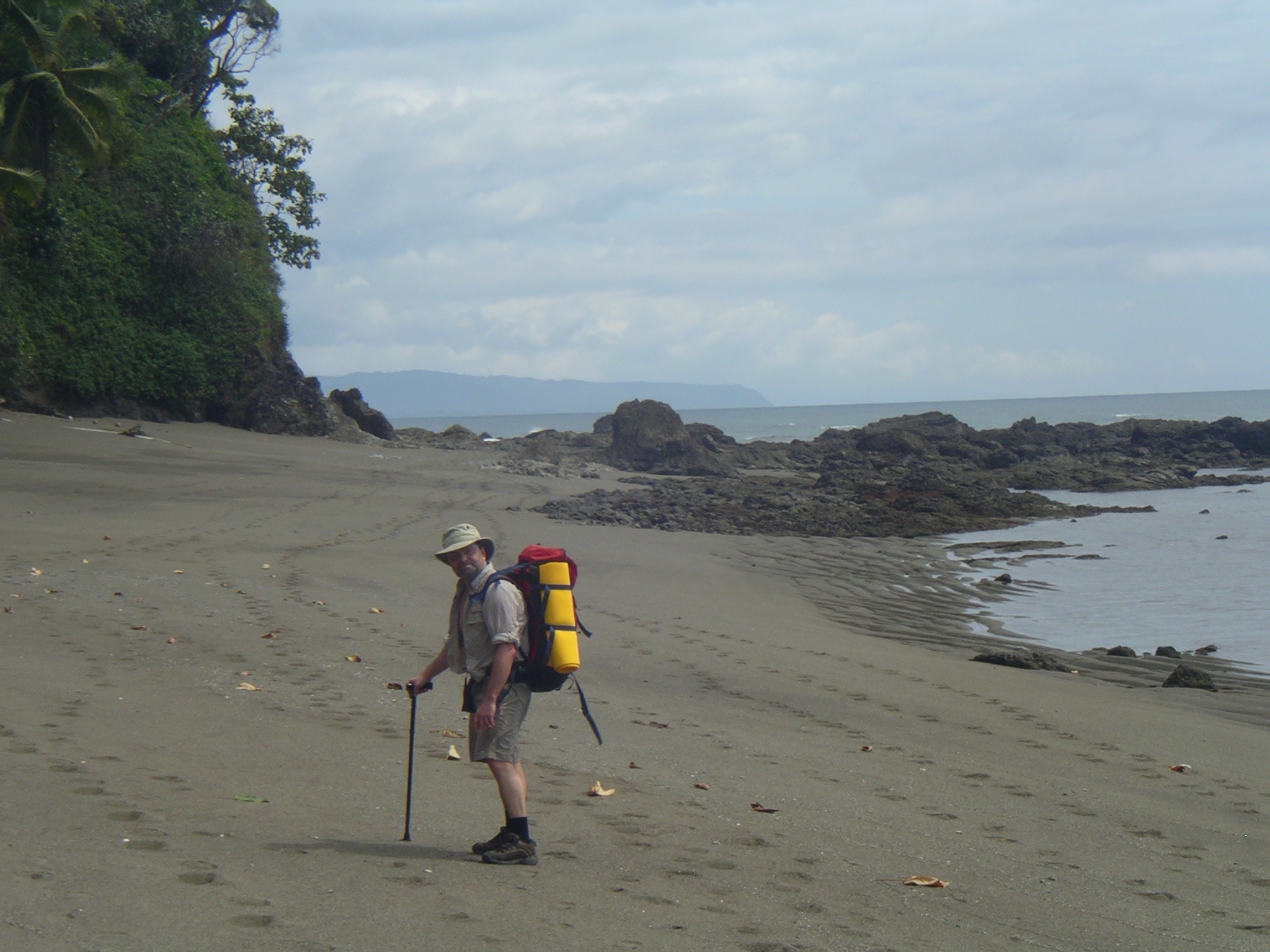 Sirena station has showers…so bring a towel, also there is a swimming hole up the Rio Claro that is a wonderful palce to soak on a hot day.
You get excellent meals at Sirena…we usually don't order their lunch…we bring snacks so we can be out hiking.
There is wifi at Sirena…so if you have an iphone or ipad.
We love this place…we have spent 35 nights camping here over all the trips.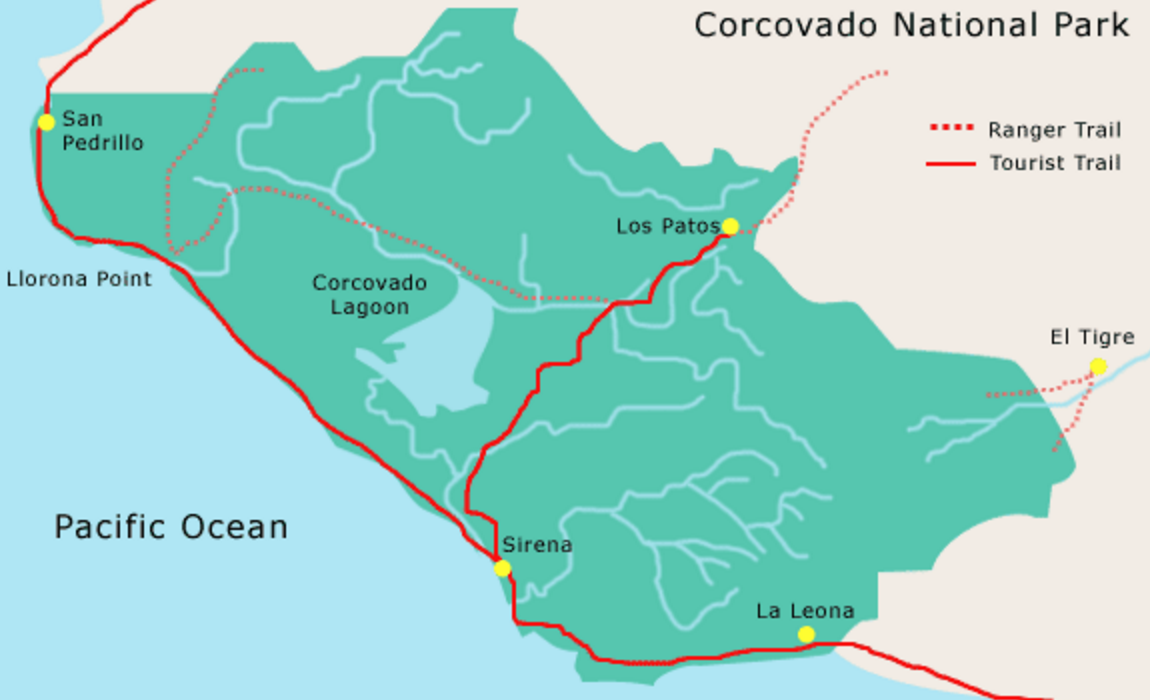 Day 7,8
Rhythm of days is very similar…up early for breakfast….hike in morning…going very slow to look at all the wildlife. Back around mid-day for siesta. Late afternoon another hike (maybe to swimming hole). Provided dinner and early to bed.
Usually a loop on the Sirena trail  than Guanacaste trail and back to station (about 2 hours) in morning and Rio Claro trail in afternoon to swimming hole…walking home the flat way looping on the Sirena trail from the Rio Claro back to the station (about 3 hours with swim). The Sirena trail is a great short place to go look for some wildlife anytime.
We have always carried our own tent and camped on the grass. Next, time we are likely going to get one of the bunk rooms. There is a tent platform, but you don't want to stay there…too crowded…too noisy. Tent on grass or get a room.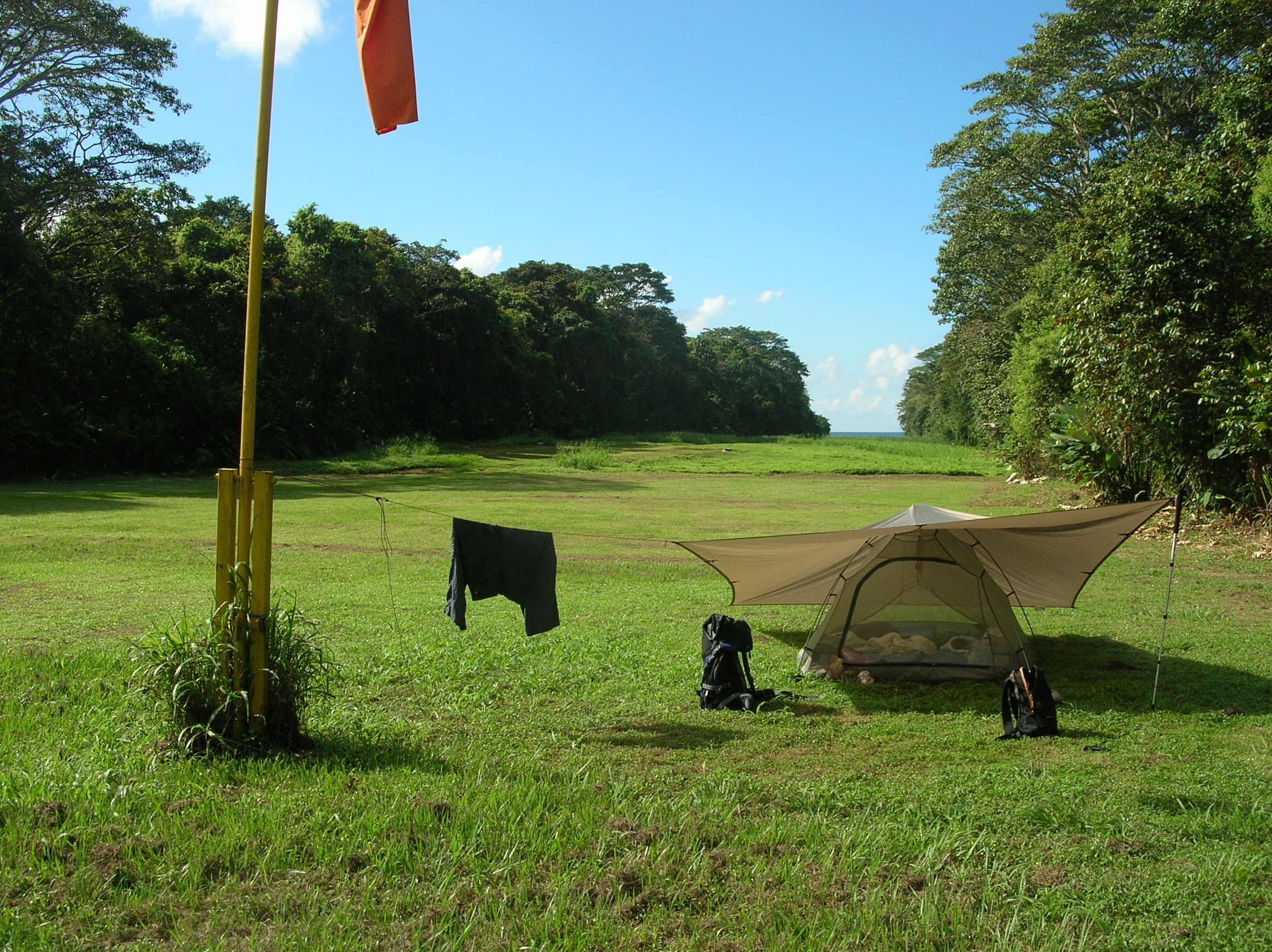 Day 9
Hike back to La Leona Lodge….timing the crossing of the Rio Claro to get a low tide.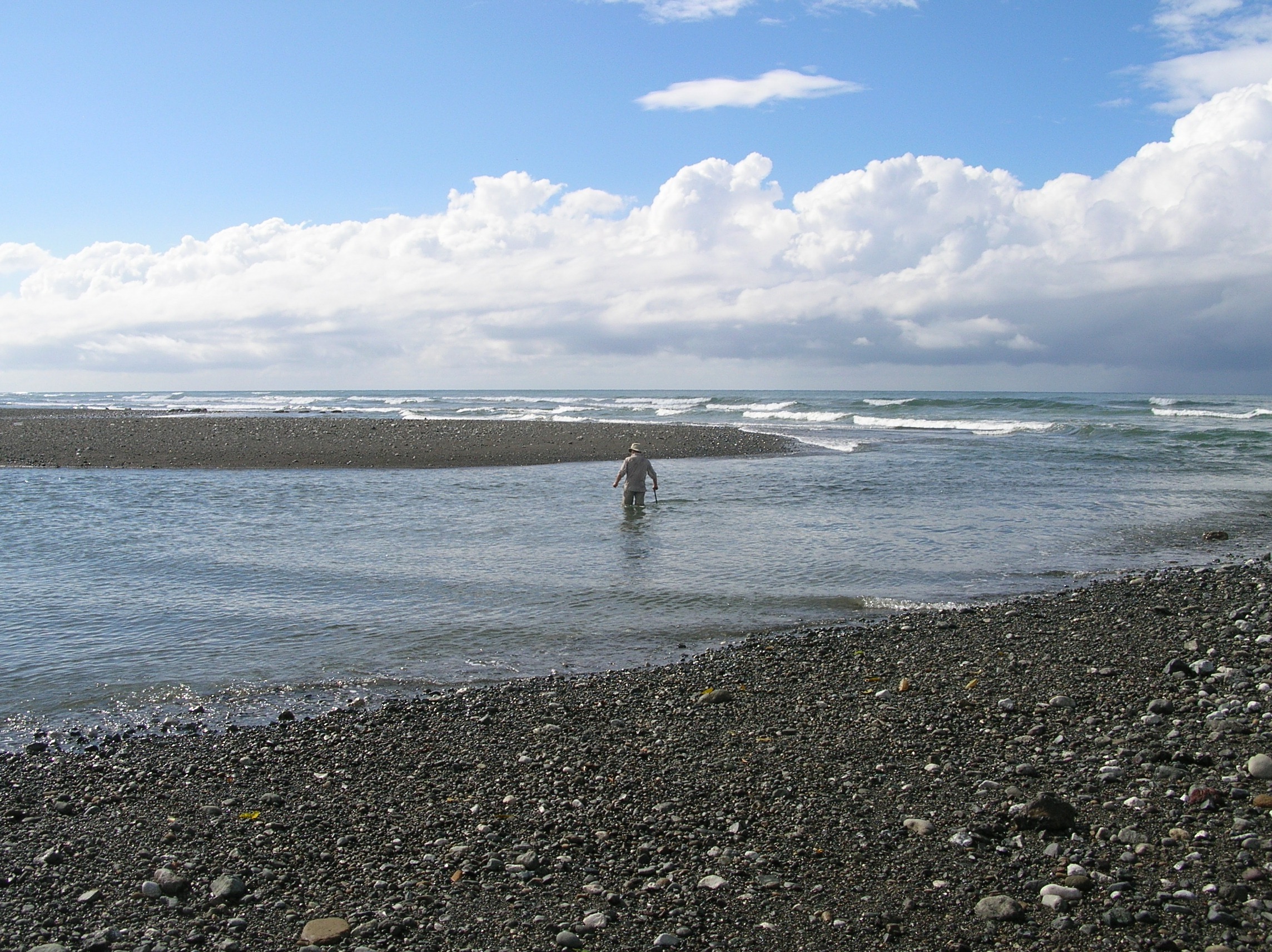 Day 10
Lazy day at La Leona Lodge…walk to Rio Madrigal to go for a swim…swim at La Leona has challenging surf.
Day 11
Back to Carate. Back to Jimenez. Cabina Oro Verde or Cabina Jimenez.
Day 12
Sansa back to Alajuela
---
Equipment
Not much…take as little as you can
Thermarest
A light sheet (no sleeping bag)
One long sleeve shirt
One short sleeve shirt
One pair of shorts
One pair of light pants
Bathing suit
Very, very light jacket
Hat
Small umbrella
Sunglasses
Sunscreen
Bug Dope (surprisingly the bugs are not that bad)
Tick remover – depending on how dry it is…they can be a problem…they DON'T have Lyme disease…there is just a evening grooming ritual on front porch…as people check each other…we can look for ours and lend it to you
Binoculars (A MUST)
Camera
Small towel
Water bottles (we just buy 2 litre bottles in supermarket and reuse)
Sandals
Low cut hiking shoes…no need for big boots…they are a problem in the heat
Hiking pole (optional)
Foot powder 🙂
Headlamp
Toilet paper
---
General safety
The environment is surprisingly benign.
Same rules as rattle snake country….stay on trails…watch where you step….do not touch things.
We always end up with prickly heat by end of trip but it is so worth it.
We don't filter our water…and have never had issue with the water…..same as here…hike up side creek…20 feet from trail…fill water bottle in moving water.
---
Wildlife
There are amazing numbers of animals. We spend hours sitting and looking through our binoculars.
Partial list of what we have seen
Lots of Monkeys – Howlers, Spider, Capuchin, Squirrel
Cats – Puma, Ocelots
2 kinds of wild pigs (Peccaries)
Coyote
Tamandu
Anteater
Tayra
Coati
Agouti
Paca
2 kinds of Sloth
Deer
Tapirs (think Rhinoceros)
Crocodiles
Macaws
Parrots
Toucans
Aracari's
Frigatebirds
Guans
Curassows
Tinamou's
Tiger herons
A few snakes (only one that was poisonous)
Bats
Tons of birds
---
Old bad video from '95 trip