We lost Mom and Dad this year (2016). Mom slipped away over the past few years into dementia and left us finally in May. Dad passed away in December 2016, surrounded by family. I tell people about Mom and Dad's travel and tennis playing exploits and people are amazed. Lives well lived. We will miss them.
GEORGE ALBERT SIBLEY (1921-2016)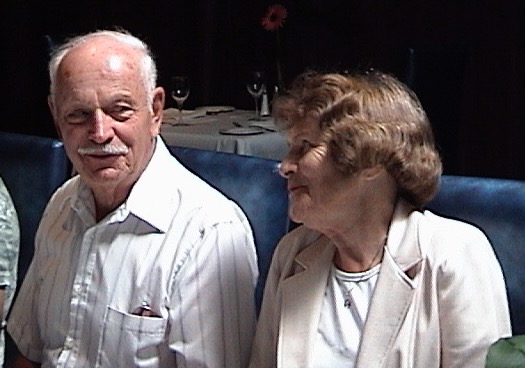 George Sibley passed away peacefully at the age of 95 with family at his side on Friday, December 30, 2016 at Oakville Trafalgar Memorial Hospital. George is now reunited with his beloved Lillian, his wife of nearly 73 years, who passed away on May 19, 2016 at the age of 92. Loving parents to Ken (Jeanne), Gayle (John), Mark (Pam), Tom (Beth) and Jim (Amanda). Loving grandparents to Doug (Jia), Tim (Stephanie), Lynn (Andrew), Anna (Keith), Greg, Ben, Ryan and Jennifer. Great grandparents to Scott, Ted and Freya. Will be lovingly remembered by many nieces and nephews.
George was born on May 14, 1921 in St. Catharines, Ontario, to William and Virginia Sibley. Sadly, his mother died during the birth of George and his twin sister, Mae. His father died when the twins were 10 years old. George and Mae were cared for by a loving foster family, Henry and Aphra Pepper. George married his soul mate, Lillian, on June 12, 1943. George joined the Royal Canadian Air Force in 1942 and was stationed in Jarvis, Ontario. He worked for the English Electric Company in St. Catharines, Ontario as an Electrical Draftsman for more than 20 years before moving the family to Scarborough, Ontario to work for the John Inglis Company. George later started his own company, G. A. Sibley Ltd., an emergency lighting business, where he and Lillian worked together until retiring to Lagoon City, Ontario. George and Lillian were very active in the Lagoon City community, where he was the President of the Lagoon City Tennis Club for many years. At the age of 89, George was named Athlete of the Week by VR News Barrie for his achievements in tennis and baseball. At his final home, Vistamere Retirement Residence, George was President of the Residence Council, where he started a sing-along group and a community tennis club.
Humbly known as the King, George's humour was legendary. An avid hockey fan, he joked that he couldn't die until the Leafs won the Stanley Cup. He made friends wherever he went and never met a stranger. His optimistic outlook on life impacted all who were blessed to know him.
George and Lillian were prolific travellers, travelling the globe for more than 40 years. They enjoyed their winters in Pismo Beach, California where they were very engaged in the community and tennis club. Their family was their greatest source of pride and annual family reunions were always a highlight for them.
The family extends a heartfelt thanks to the wonderful nurses and PSWs at Vistamere for their compassionate care.
A memorial service will be held at Walton United Church, 2489 Lakeshore Road West, Oakville, Ontario L6L 1H9 on Saturday, January 14, 2017 at 2 p.m. In lieu of flowers, donations may be made to a charity of your choice.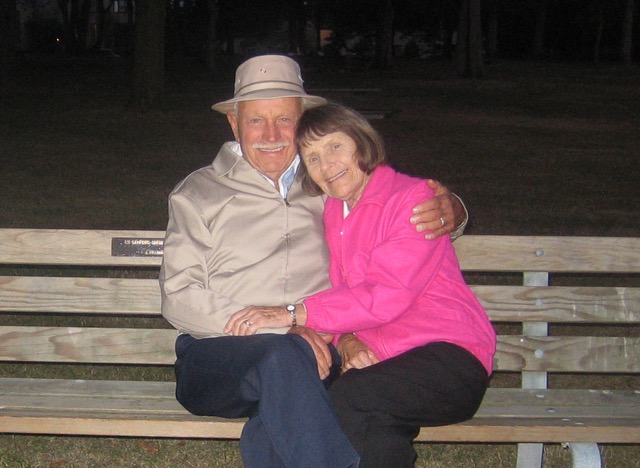 Audio File of Dad's Early Life (from interview by Gayle in about 1976). File is of poor quality….but still a compelling one to listen to.
At 89, Dad was the Athlete of the week at a local TV station!
LILLIAN SIBLEY (1923-2016)
My Dad gave an amazing speech…without notes!
Here are some lovely words written by my sister that were read by my brother-in-law John McGill at my Mom's Celebration of Life – September 4, 2016
My sweet Mom is gone.
Mom was sweet but also fierce. Like one of those Moms you read about that when their kid is pinned under a car, finds superhuman strength, lifts the car and sets their child free. Or who wrestles her baby from the claws of a bear. That was my Mom.
She was always on my side. Always ready to fight for me and later for my daughter and even eventually my husband after getting over the long hair and beard thing. There was not a day that I did not feel her love and support.
And she may have saved my life. I was a morose young teen, down a pint of something and felt I had no place in this world. I let this last bit slip once and Mom got angry and said, "if you kill yourself you might as well kill me too." And in an instant I knew that was true. Saved by one simple sentence, which allowed me to focus on making my father and brothers miserable instead. I did an excellent job. Just ask them.
I remember when I was a little kid listening to Mom talking to someone on the phone about all these wonderful children and being startled to realize that she was talking about my brothers and me.
I was pretty sure we were run of the mill but not to Mom. To Mom, we were border-line perfect and that helps a kid. Although as my husband says (that's me) If you want an objective opinion, just ask a Mom.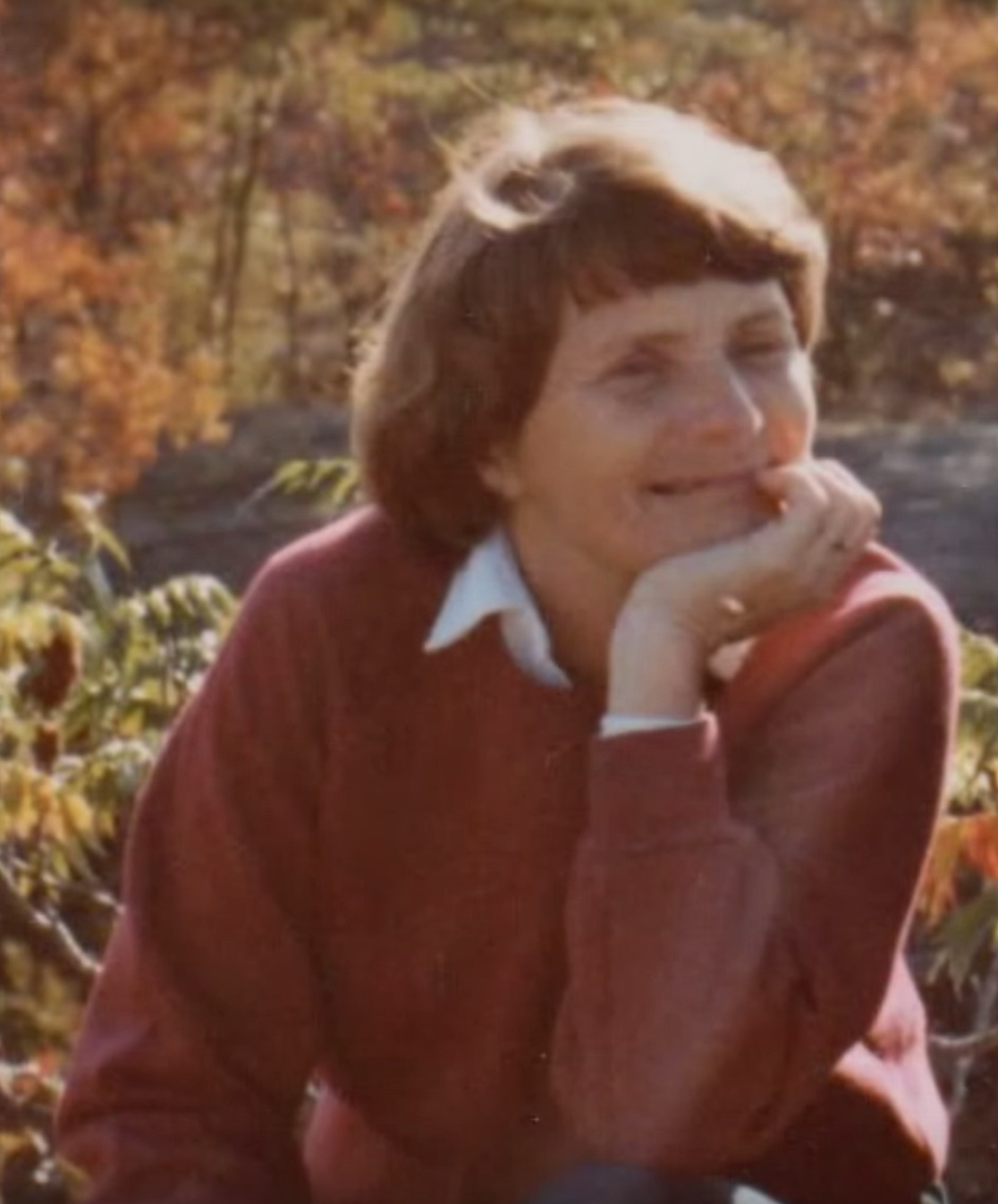 But, if someone did not behave, Mom was there to let them know. Years ago, when Mom and Dad were visiting my brother Ken in Riverside, Mom came out of a 7 /11 and saw a large and all of us would agree, a rather frightening looking man throw his candy wrapper on the pavement.
"You're littering," she admonished. "Pick that up."
We held our breath. He bent down, picked up the trash and dumped it in the garbage.
She intensely felt our ups and downs. A little bit too much for her and Dad's own peace of mind but it gave us a layer of protection, something we knew we could count on. We could lay any problem at their feet and know they'd do what they could to help.
But, man did Mom worry. Not about what most people worry about –– like money or status or what the neighbours think. The only thing that worried her was the well being of her family. She wanted the family to get along, to be happy with each other and to a miraculous degree we did and do. Our home was full of love.
I remember a few years ago. Dad, Mom and I were walking back to their trailer in Pismo beach after having lunch in town. It was one of the last conversations I had with Mom before dementia stole her away. I was just shooting the breeze, wondering aloud if I should give up on my novel and spend my time on something more promising. She leaned over to me so closely I almost lost my balance, our heads were touching.
"You finish that book," she said. "You know you have to. You'll always wish you had."
I was startled by the intensity and clarity of her response but then thinking back I realize that that was the core of what my Mom was. She knew what was important in life, knew what we needed.
And then there was the relentless workload of caring for a large family. Poor Mom, she hated cooking and had to put three squares on the table 7 days a week for what 60 years? That's approximately 65,700 meals. Yuk. She kept an immaculate house and we were slobs. She did everything. At night we'd laugh at her when she fell asleep as soon as she sat down on the couch just to rise the next morning before we were awake and start it all over again.
When I asked her once how she felt about her life, before the bitterness of dementia, I was thinking she'd remark on how difficult it had been – the money worries, the endless hours of childcare and housework, not to mention trying to pretend that you really wanted to watch thunderboat racing, go wine tasting in Pismo, hear about dirt bikes or sit through yet another child or grand child's recital.
I was wrong. "I've had the whole enchilada" she said choosing an inexplicable metaphor, especially for a Canadians. I thought she would have said "I've had the whole plate of butter tarts." But, I believe she was a happy woman, with a brim full life who felt blessed, number one for her husband and then her children. Then of course for her number one son-in law (that would be me), daughter-in-laws, grandchildren and great grandchildren.
You can't talk about Mom without talking about Dad. I remember at our first tiny house, 20 Russell Ave, she'd comb her hair and put on lipstick and always greet Dad at the door with a kiss. (Husbands, a show of hands if this is how you are greeted by your mate everyday) Even at the very end of her life, the minute Dad walked through the door at Creekway, Mom locked on to him and watched intently as he crossed the room to her. She loved him with every fiber of her being. I can't remember them fighting. They must have but I didn't see it.
She would and did follow my Dad anywhere, up mountains and down again, on a camel, maybe an elephant, occasionally in a canoe. She told me that her favourite travel memory was sneaking away from a tour group and sitting with Dad on a European hillside eating bread and cheese. She had Dad all to herself and that's what she's always wanted. Their marriage was a marvel –– a mystery to those of us who think we have good marriages, but who, how shall I say, have a more traditional relationship with their spouse.
While I'm on the topic of Dad, I must say that he is my absolute hero. Curious, kind, hopeful, always something on the go. A ridiculously upbeat nature. Not a lick of bitterness. Often trying to right some wrong, include someone that may have be left out. I'm so proud to be his daughter.
In my opinion, the best gift Mom and Dad gave us was teaching us ethics by example. They gave us a moral compass. The starting point was to think well of others and expect good behaviour. Never to rise up by pushing others down. How lucky we were.
I believe that each of us has a life force, a tiny bit of energy that vibrates through the universe and is never lost. In the cosmos it is said that every body affects every other body. Mom's life force is still with me and with all of us here. With each thought of her, with each memory relived, like the pluck of a string, her sweet vibration shimmers and lives on.
Tom's Speech
Lynn's Speech
Jim's Speech
Craig's Speech